Expriences
Expriences in Working with AVR Microcontrollers:
Making an automatic mp3-Prayer machine (planned to present in market)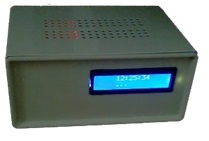 Device specifications:

Using an AVR microcontroller as the main processor and MMC/SD Card for storage.

Supports a lot of sound files by mp3/wma/wav formats.

 

Shows the exact time and saves time When a power outage.

Capability of calculating exact prayer times according to the geographical location, etc.
Last Updated on Friday, 14 April 2017 23:40